Suit Up and Blast Off
Welcome aboard the Starship OPM for your nonstop, warp-speed flight through the universe. With gravity-defying acrobatics, breathtaking acts of celestial beauty and hilarious mayhem, OPM goes where no show has gone before. Your gorgeous host is Andromeda, the glitchiest, most sex-starved android since Wall-E. Before or after the show, venture into the all-senses overloaded dining experience in Superfrico at OPM. Or during the show, our flight attendants will happily deliver cocktails, pizza, and oxygen directly to your seat. Fasten your seatbelts. It's going to be a mind-blowing night.
Book Your Flight
Nonstop Flights Every Wednesday – Sunday at 7pm & 9pm
Flight duration is approximately 75 minutes with no stops.
Terms & Conditions
To request specialty seating or other accessibility-related accommodations, please contact the box office toll-free at: (888) 966-0404 or (702) 534-3419.
Price per seat includes taxes only. Service and handling fees may apply. All sales final. No refunds or exchanges.
Notice: Tickets purchased through unauthorized resellers are not guaranteed.
In-Flight Dining
Thanks to the magic of modern technology, Starship OPM passengers can now summon the finest pizza in the known universe direct to their seats, courtesy of our (pizza) pan-galactic next-door neighbor, Superfrico. Specialty Spocktails may also be ordered mid-flight, just ask a friendly member of the crew for details.
Bookings for in-flight dining available inside Starship OPM's Escape Pods. Contact sales@spiegelworld.com for more information.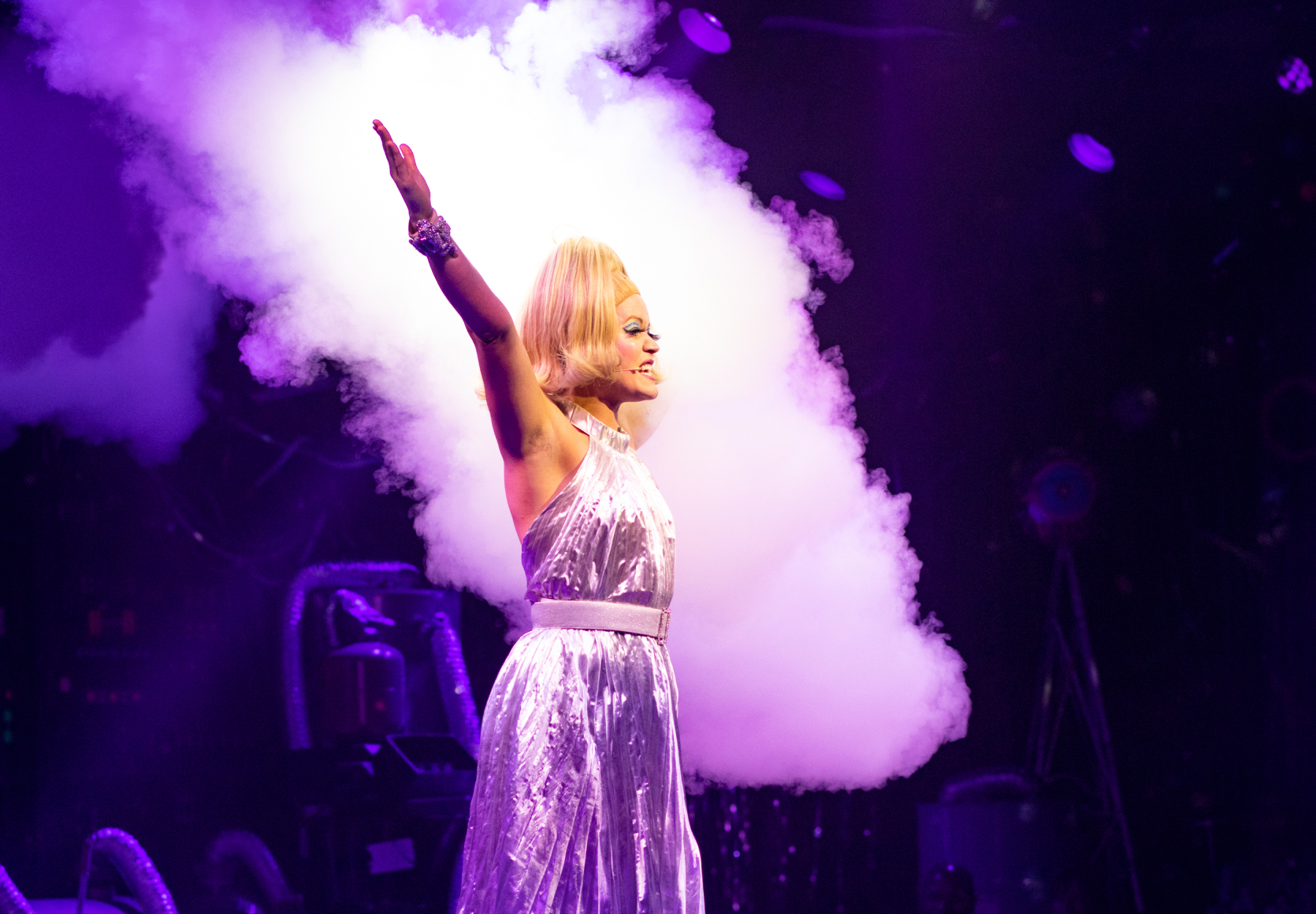 Dining
Created by Spiegelworld, Superfrico® is the ultimate be-all, end-all, taste-all house party where the world's most kickass creatives cut loose and do their thing—in the kitchen, behind the bars, on the walls, under the table—and everyone's invited.

Inspired by the world's coziest aprés-ski bars, the cabin-styled Ski Lodge is the coolest spot on the Vegas Strip for a year-round winter warmup. Stake out a spot at the bar or settle in by the fire and treat yourself to the finest handcrafted cocktails and pizza on the slopes of Sin City!
Packages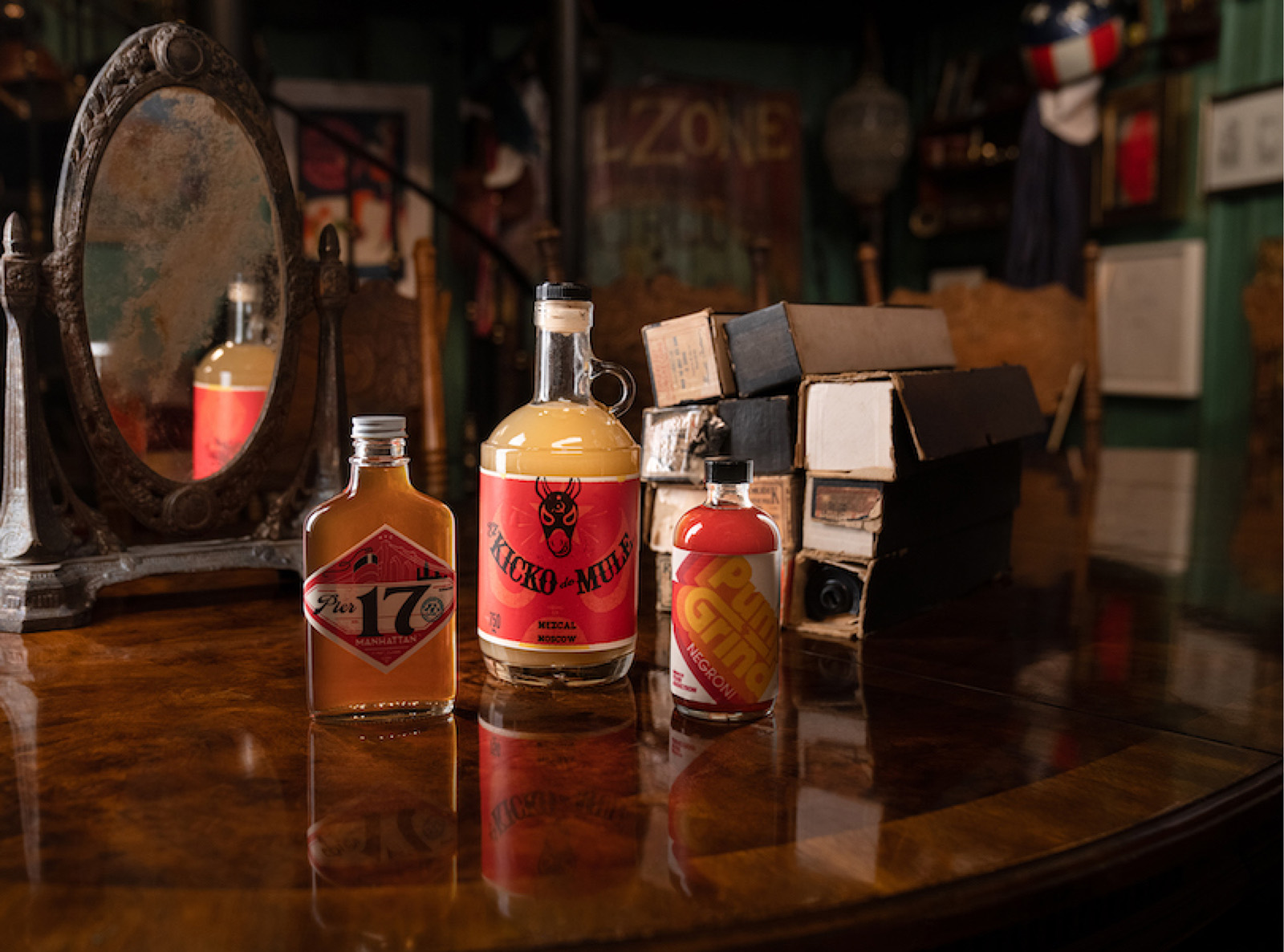 Bottle-O Package
Quench your thirst with a Bottle-O bottle delivered right to your seat!
Must be 21+ years of age.
VIP Escape Pod
The best in-flight meal you'll ever have. Enjoy a pre-fixe menu served during OPM in one of our VIP escape pods.
Must be 21+ years of age.
This Ship Runs on Bubbles
The best way to experience OPM is with bottomless bubbles. Start before the show, with pizza and an appetizer, and continue the party until the ship lands.
Must be 21+ years of age.
Build Your Own Pizza Experience
Before the show, sip on cocktails and craft your own personal Superfrico pizza in a class hosted by a dedicated chef. Then, have your pizza delivered right to your seat to enjoy during the show!
Must be 21+ years of age.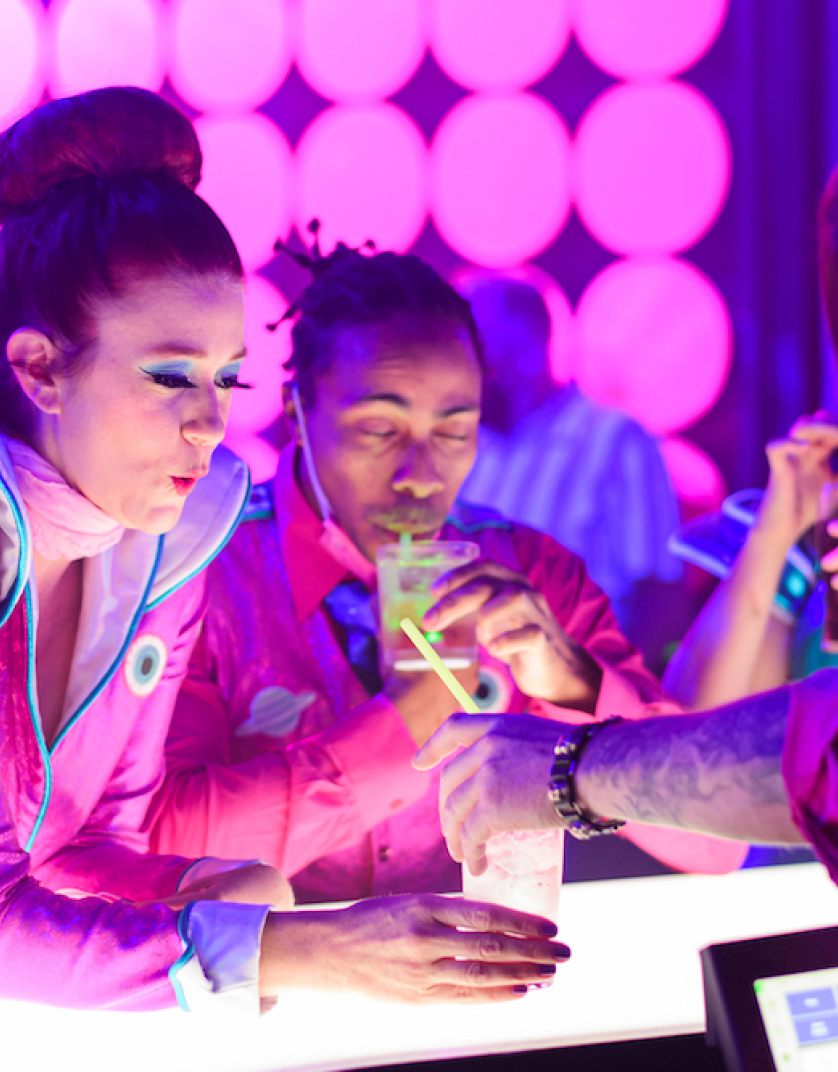 Rare Character Whiskey Tasting Class
Before the show, your own bartender will walk you through a tasting of three of our exclusive whiskeys. Board OPM-73 a whiskey connoisseur, leave a whiskey legend!
Must be 21+ years of age.
Events
Whether you're celebrating May the Fourth, planning an out-of-this-world party or otherwise in need of (ahem) space to entertain your clients, Andromeda and her Starship OPM crew will gladly beam you aboard. In the mood for something more intimate? Book a private VIP Escape Pod for 2-4 and enjoy premier seating and a perfectly chilled bottle of bubbly upon your (expedited) entry.
Ready to Party? Click Here
Book Your Package Today
No one does "unforgettable" quite like we do.
Merchandise
Explore Uranus Bucket Hat
$38.00
Protect your head from harmful gamma rays on your next trip to Uranus on board the Starship OPM.
JILTED PORTAL T-SHIRT
$60.00
This art was rejected as the key art for OPM back in 2018 but our intern really liked it so we put it on a shirt.
OPM-73 Sticker Patch
$10.00
Yes, this is a STICKER. It's sticky icky and it'll stick right on to you. It's textured like a patch and fully embroidered, but it's a sticker and it'll stick to your laptop or whatever. I promise.
The Cosmopolitan of Las Vegas
OPM Theater
Level 2, Chelsea Tower
3708 Las Vegas Blvd
Las Vegas, NV 89109
Buzz
Blog

Spiegelworld speaks to Superfrico Las Vegas artist Scott Teplin. Tell us a little bit about yourself. Where are you from? How did you get started in art? I grew up in the Midwest and didn't study art as a kid. I was interested in it but I didn't study it because I thought it was […]

VEGASHITSHOW

In the year 2022, Starship OPM had been in service for several years and needed a new bubble-powered engine. Follow Starship OPM's new crew as they finalize a full-system upgrade and work with Earth's most in-demand comedy director Cal McCrystal to deliver gravity-defying acrobatics, breathtaking acts of celestial beauty, and hilarious mayhem.

VEGASHITSHOW

Defying Zero-G, the newest OPM73 crew member may use a low bar but the wow factor is high. Lean back and meet the record-breaking queen, Shemika Campbell, as she takes us behind the scenes, sharing what it takes to bring her out of this world talent to Opm. Las Vegas, limbo has landed.

News

Eagle-eyed art lovers are likely to do a double-take upon discovering a few familiar faces among the immaculately-packaged action figures occupying four different display cases inside Superfrico's main dining room-slash-gallery, The Artery. Commissioned by Spiegelworld, the 27-character collection was created by New York City-based artist Morgan Phillips, aka The Sucklord, and depicts the canonical cast […]
Other Shows