Las Vegas is known for a lot of things yet somehow, outside of the annual Wrangler National Finals Rodeo (NFR), its bona fides as a first-rate destination for modern day cowboys, cowgirls and other Western lifestyle enthusiasts isn't one of them. To address this oversight, we asked Boozy Skunkton, proprietrix and madam of the Atomic Saloon, to share her picks for Sin City's most stampede-worthy experiences.
Clean up your coif at Cliff's Barber Corral & Wild West Showcase
Hankering for a haircut *and* a history lesson, but pressed for time? Thanks to Cliff Wolosin, owner and master barber at Cliff's Barber Corral, you don't have to choose between the two.
Party like a pioneer at the Sunset Stampede
Escape the desert heat for the cooler climes of Sam's Town's Mystic Falls Indoor Park, which brings the Western pioneer experience to life with music, dancing water, animatronic animals and laser lights at 2pm, 4pm, 6pm, 8pm and 10pm daily.
Visit Vegas Vic on Fremont Street
The original neon cowboy, Vegas Vic has been holding down the corner of Fremont and First since 1951. Fun fact: Vic used to shout "HOWDY, PODNER!" in a 15-minute loop, but went silent after actor Lee Marvin complained about it while shooting The Professionals in 1966. (Allegedly.)
Get your (prop) gun & learn to spin it at Western Stage Props
Stop by Western Stage Props for all the equipment, accessories and educational materials necessary to try your hand at trick roping, whipcracking, knife and tomahawk throwing, gun spinning… even trick riding (minus the horse).
Ride the mechanical bull at Gilley's Dance Hall & BBQ
If you've ever thought time moves too slowly, you've never tried to go eight seconds on a buckin' bronc. While in Vegas, there's no better (or safer) place to try it than the legendary Gilley's Saloon.
Play cowboy (for real) at Sandy Valley Ranch
Located "45 minutes and 100 years from Las Vegas," Sandy Valley Ranch offers a range of immersive activities for would-be cowboys/girls, from 30-minute cattle rustling lessons and sunset trail rides to their signature all-day and overnight experiences.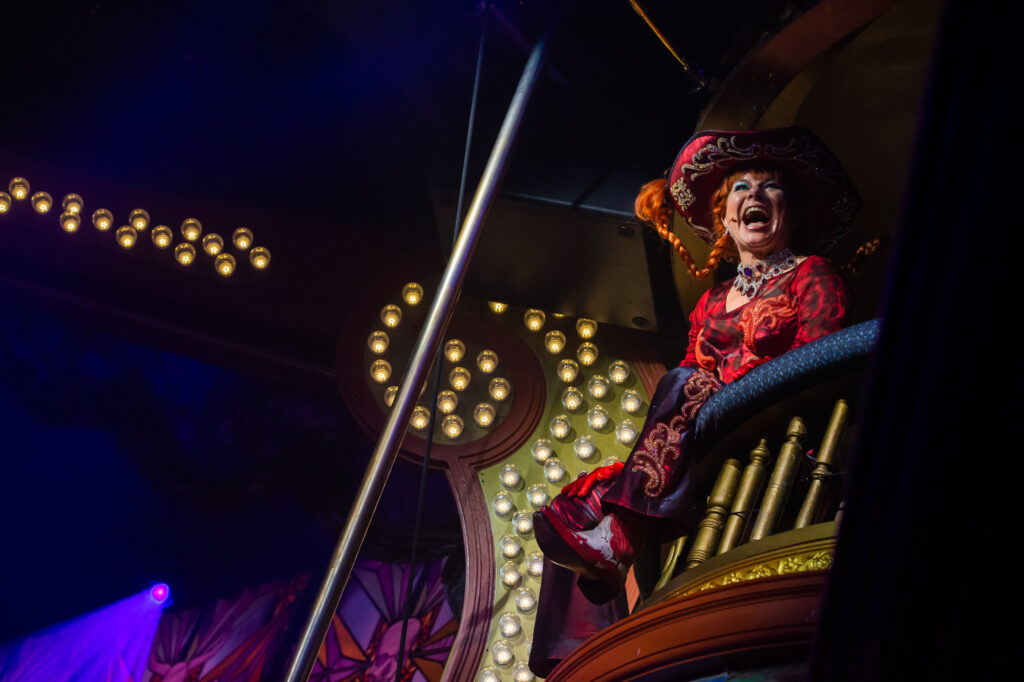 Enjoy Atomic Saloon Show from Boozy's Box
There isn't a bad seat in the house, but when it comes to high-rollin' you can't beat Boozy's VIP packages. Party with up to four friends in a stage-side booth, or take in the show from above in your own private balcony box.
Toast a ghost at the Pioneer Saloon
Built in 1913, the delightfully ramshackle Pioneer Saloon is a longtime favorite location for Old West movie and TV shoots. But it was a different type of shoot—the kind that leaves bullet holes in walls and spectres roaming about—that continues to draw history buffs and ghost hunters in droves.
Line dance with a drag queen at Charlie's
Free line dancing lessons aren't all that hard to find. Free line dancing lessons followed by a drag show? Now we're talking. As their slogan says, there's no better place in Vegas to "drink, dance and play… the cowboy way." Line dancing lessons every Saturday at 7pm, free.
Unwind at Canyon Ranch Spa + Fitness
Need a break? Escape the sensory overload of the Strip for the blissful environs of Canyon Ranch spa + fitness. There may not be much (or any) livestock to speak of, but after a few days in Vegas, there's no better place to unwind.