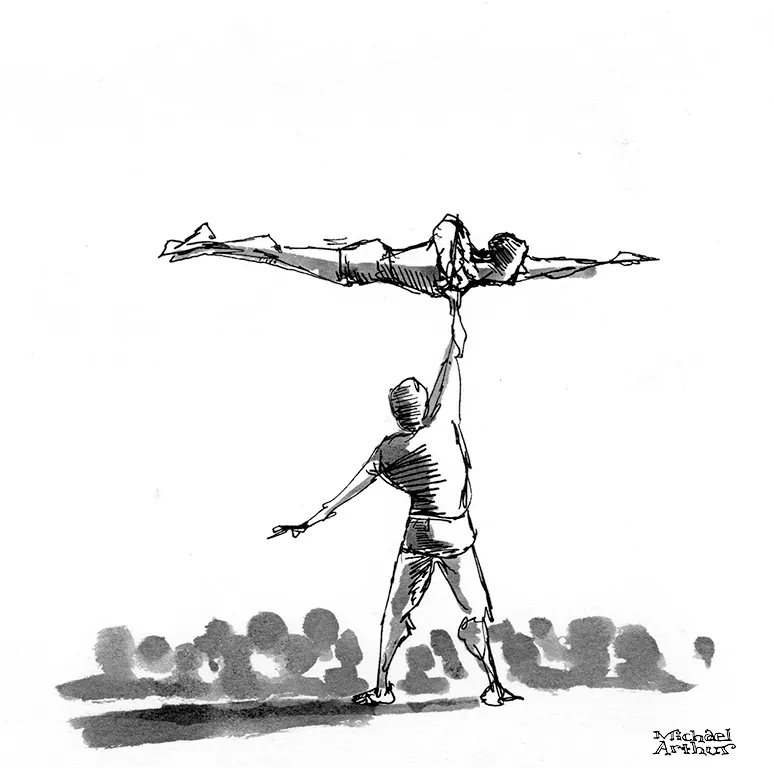 Sketches created of Absinthe performers during a performance in the Absinthe Spiegeltent at Caesar's Palace in Las Vegas, NV in 2018.
Michael Arthur is a Brooklyn-based artist who specializes in both drawing the intimate moments of theater, dance and music as well as performing "live drawings", visually accompanying music and performers with projected, real time illustrations. He draws mostly in ink without any pencils or rough drafts: each drawing is a live reaction to the moment.
Date
2018
Media
Ink of paper
More ArtWork
This piece was about the posture of the person and how it connected to a natural element like green leaves.I elongated the neck to give the figure a bird-like quality and softness. I enjoy letting the watercolor bleed and move on its own and then I go back in to add structure. Shereene Fogenay was born […]

A "holy" portrait of being a modern day artist and performer in Las Vegas. Over the course of the nearly 11 minute video loop, Heidi transforms in and out of being Elvis from inside a neon shrine. The sculpture is about identity, performance, transformation and the labor that goes into being an artist.