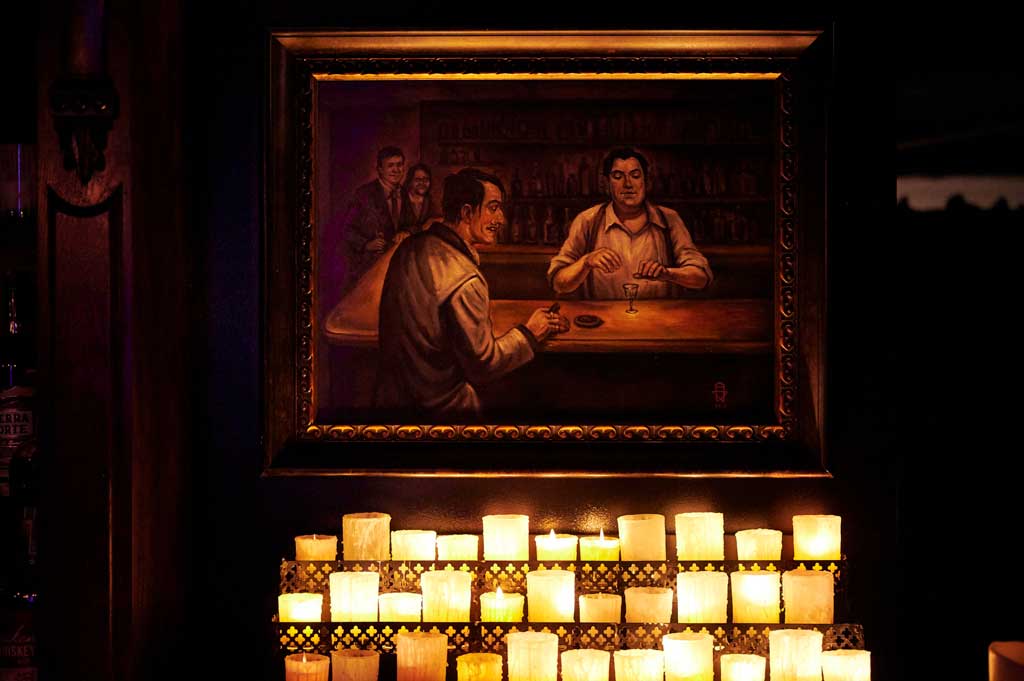 Commissioned by Spiegelworld for the opening of the Vestry bar at the Atomic Saloon, in tribute to the late New York mixologist Sasha Petraske who created the first Spiegelworld cocktail in New York City in 2006. In the painting, Sasha Petraske is seen serving The Gazillionaire while Spiegelworld's Impresario Extraordinaire Ross Mollison and Consigliere David Foster look on.
Based in Los Angeles, Christopher Ulrich's surreal iconographic images have adorned museums and galleries worldwide. He is influenced by the richness of ancient mythology, the mystery of alchemy, and the vastness of cosmic reality.
More ArtWork
This piece was about the posture of the person and how it connected to a natural element like green leaves.I elongated the neck to give the figure a bird-like quality and softness. I enjoy letting the watercolor bleed and move on its own and then I go back in to add structure. Shereene Fogenay was born […]

A "holy" portrait of being a modern day artist and performer in Las Vegas. Over the course of the nearly 11 minute video loop, Heidi transforms in and out of being Elvis from inside a neon shrine. The sculpture is about identity, performance, transformation and the labor that goes into being an artist.