A horse walks into a bar and says, "And I thought my workplace was a dive." Ba-dum-tss! But seriously, folks. Man, woman, horse… after a long day of doing whatever it is you do, there's nothing more refreshing than a cold drink in pleasant company. Pre-show, post-show, dinner or no, Horse Dive Bar serves up the best, just inside THE HOOK lobby. So saddle up and ride—neigh, dive—into a thoughtfully selected sea of boutique beers, wines and handcrafted cocktails, including fresh takes on old faves and new classics inspired by AC's colorful history.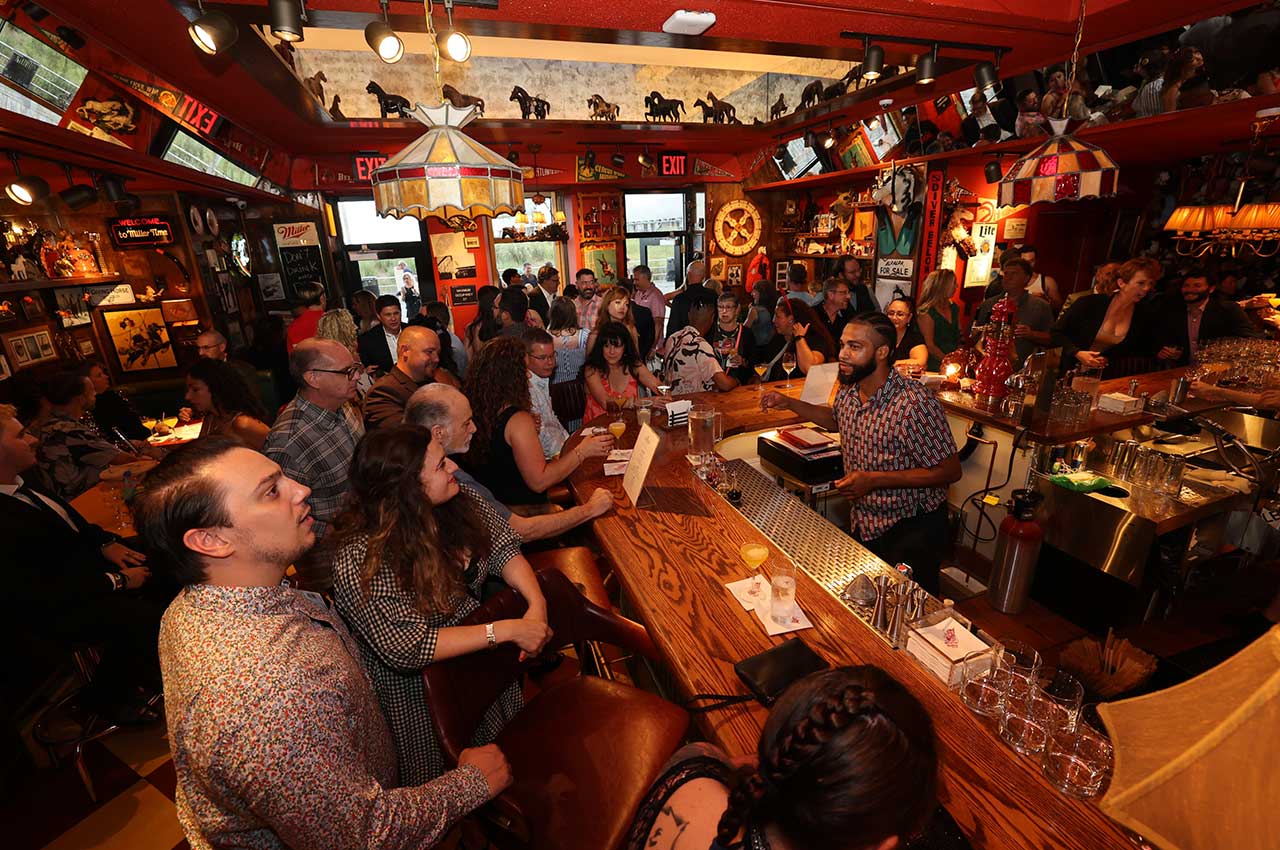 Menu
Horse Dive Bar will transport you to 1969, when carnival bars and rock & roll went together like horses and diving. Before the show or before dinner at Superfrico, arrive early, and sidle (saddle?) up to the bar to enjoy specialty cocktails, boutique beers, and wine.
Explore The Hook
A riotously funny, seductively beautiful show that completely lures you in. Only for adults. Only in Atlantic City. Expect Spiegelworld's signature blitz of the ridiculous, the funny, the jaw-dropping, and the superhuman.

Make it less Las Vegas – Backstage of The Hook, discover Spiegelworld's rule breaking restaurant that has forever changed the way we think about a night out. What theatre has an attached dining experience this good? What restaurant has an energy that is this much fun? And do we need this many cocktail bars in one venue? Of course we do!

Saint-Tropez meets Steel Pier at Cheval de Plongée, a breezy new boîte located on the Atlantic City Boardwalk just hoofsteps from THE HOOK's main entrance. A wink to one of AC's splashiest historical attractions, Cheval de Plongée ('diving horse' in French) is anything but.
EVENTS
Horse Dive Bar delivers all the creativity, quality hospitality, and ridiculous fun that Spiegelworld brings to all its venues, immersing your guests in a spectacle for all the senses. With 200-seat at Superfrico, a 422-seat theatre presenting The Hook show.
READY TO PARTY? Click Here
Book Your Package Today
No one does "unforgettable" quite like we do.
CAESARS ATLANTIC CITY HOTEL & CASINO
THE HOOK
2100 Pacific Avenue
Atlantic City, NJ 08401
More Dining