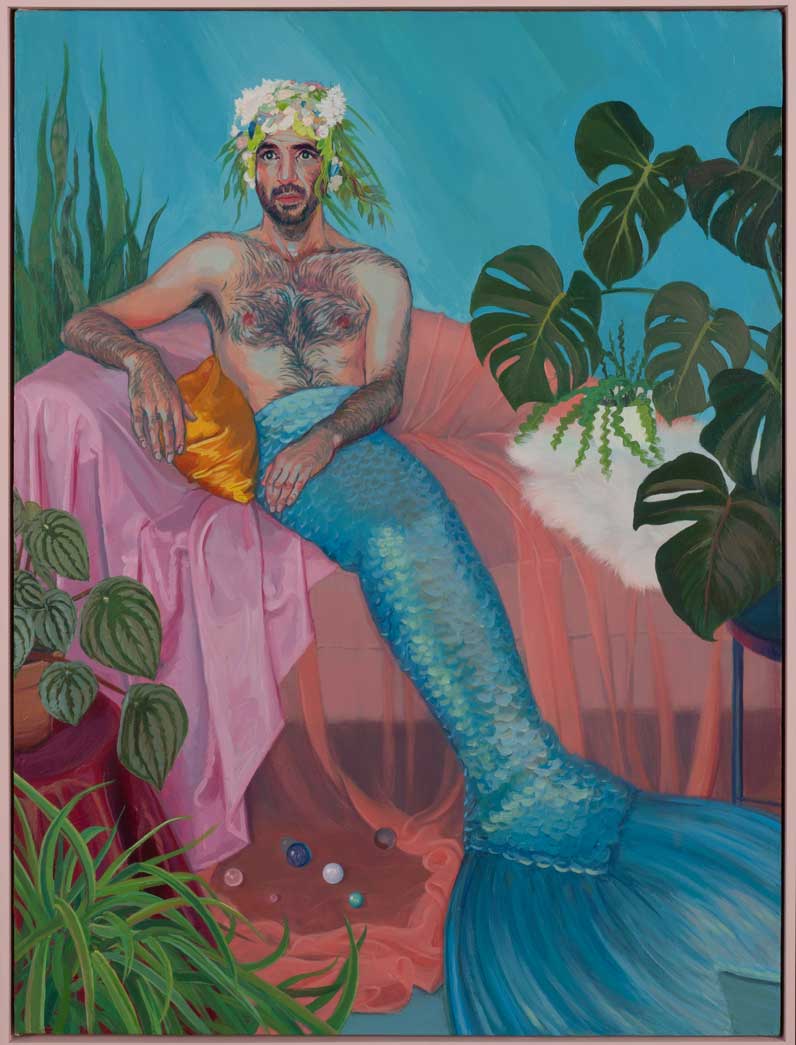 Part painter, part educator, part fashion designer and prop-maker: Sara Jean Odam-Hodges has no problems finding practical applications for her creative abilities. Everything from teaching Montessori in Brooklyn, to assisting Kehinde Wiley in a team of painters, and illustrating designs for Ralph Lauren, Odam-Hodges' bright and colorful palette always brings a sense of joy and a smile to viewers. After moving to Las Vegas, her gaze (un)expectedly shifted to local performers: those in burlesque, drag, and costumes celebrating the fantastic and bizarre expressions of humanity that bespeckle our glittering Sin City. Mermen, Mom-of-two strippers, clowns, acrobats, and all variety of talented performers that make Las Vegas brighter are the central subjects, while Odam-Hodges' keen sense of color and pattern bring the scene to life. The subjects themselves take on an odalisque scene, often lounging around on couches draped in fabric, skin exposed, alongside lush exotic plants that aggressively hint at the guilty pleasure of ogling these works of art.
More ArtWork
This piece was about the posture of the person and how it connected to a natural element like green leaves.I elongated the neck to give the figure a bird-like quality and softness. I enjoy letting the watercolor bleed and move on its own and then I go back in to add structure. Shereene Fogenay was born […]

A "holy" portrait of being a modern day artist and performer in Las Vegas. Over the course of the nearly 11 minute video loop, Heidi transforms in and out of being Elvis from inside a neon shrine. The sculpture is about identity, performance, transformation and the labor that goes into being an artist.