Spiegelworld speaks to Superfrico Las Vegas artist Scott Teplin.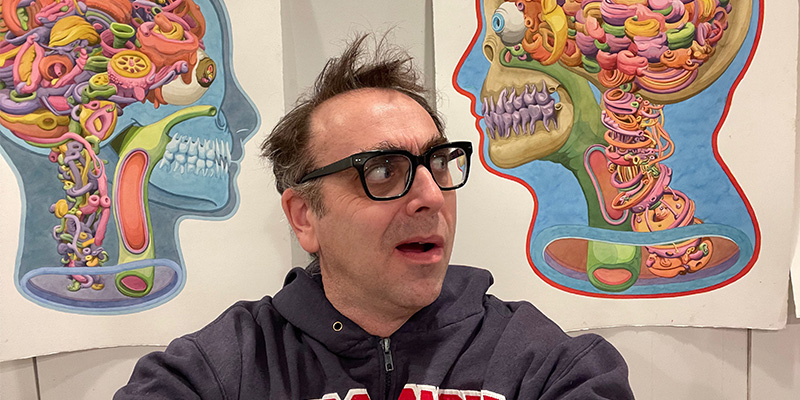 Tell us a little bit about yourself. Where are you from? How did you get started in art?
I grew up in the Midwest and didn't study art as a kid. I was interested in it but I didn't study it because I thought it was for dummies. And I was embarrassed to take art classes throughout high school because I thought kids would think I was dumb.
I studied art in college in UW-Madison in Wisconsin and after traveling abroad my junior year, I realized that this was what I wanted to do. After graduation I moved to New York City and tried to be an illustrator to make a living and just be an artist in my "real life". For me, both divisions of art making eventually mushed together. I wasn't a very successful illustrator, so I got a job at the New York Times and worked there for 11 years as a full-time photo editor, which I still do, part-time.
When I first moved to New York, I wanted to work for Mad magazine, but I needed to find out where their offices were located. So I went to a Barnes and Noble and looked up the address in the credits of a MAD, which turned out to be across the street from where David Letterman shot his show. I then walked to the office, not realizing it was three hours away. When I got to the Time Warner building I snuck past security, spoke to the secretary on the 5th floor (Alfred E Neuman's picture was on the button in the elevator), and met the art director. All I had with me was my sketchbook, so. he told me, "You should submit pitches, you have good ideas, but your drawing isn't very good." So I started a regimen where I would draw in my sketchbook for 4 hours everyday. Since then, I've concentrated on my sketchbooks to get better at all sorts of things.
The Spiegelworld piece is a representation of the four worlds of Absinthe, Atomic Saloon Show, OPM and the recently added Discoshow. I have pages and pages of Spiegelworld stuff in my sketchbooks.That's how I figured out what to include in the piece. I have a vast encyclopedia of images I've drawn throughout the years that I can tap into. One thing I loved about the Spiegelworld job was that it got me to revisit my architectural series. I stopped making those drawings because it was too hard to figure out what to fill the rooms with. Spiegelworld's brief gave me everything I could ever imagine to fill the space, and I love that. That got me back into the series. And now, because of this project, I'm excited about it again.
What are the materials that you're working with?
I create a grid in order to make the piece isometric, so there's no vanishing point. It's like a video game where you can scroll forever, and it never vanishes into the distance. These worlds are not realistic, they are thoughts, and so they don't have to seem realistic. They can potentially go on forever.
I start by drawing the walls, then I'll draw the objects inside the rooms. Next comes tons of erasing and redrawing to refine everything. This first graphite step takes about half of the entire production time. Next I'll go over it lightly in ink. I use India ink with an old-fashioned steel tipped dip pen because you can't get linework any blacker than that. Then I'll erase all the graphite and draw over everything at least two more times with ink. Next I'll turn the whole thing upside down and thicken some of the lines in ink because I obsess over line quality. Once the ink is completely dry, I go over it in watercolor. The watercolor is the most tedious part because to build up saturation with color I add upwards of 50 to 60 wash layers to each object, wall, floor, etc.
Do you have an estimated amount of work hours for this piece?
I don't keep track because if I knew the answer, I would quit doing it and likely never do another one. I can tell you it's in the hundreds of hours for this particular piece.
What is your typical creation process when you're thinking about one of these pieces?
I take a lot of notes. I asked Spiegelworld for a list of stuff in each of the four shows and all the objects they had, anything for me to process, and then I would draw ideas in my sketchbooks.
I figured out a color theme for each show's quadrant; so they all have their own general look. That way even if you separate them, you can tell each set of four belongs together. As I started to piece the drawing together, I would draw a trampoline here and then take you on a path to the other side, with a bathroom. I never neglect to draw bathrooms.
I knew the final piece would consist of four sets of four panels, and they would all fit together. So that took quite a bit of planning. Typically I'd draw these on one large sheet of paper but I was in the process of relocating my studio so I had to improvise. I loved the voyeuristic quality of looking at this through a window so I designed it to look that way once it's framed. While dining with my kids, or on vacation, I always had one of my Spiegelworld square panels with me wherever I went. The overall complexity made it fun.
What's your favorite part of the piece?
I like the roller skate slides in Discoshow. I love imagining Starlight Express and the people roller skating all over in a crowded dark room. The danger involved! I skateboarded for 30 years, so I gravitate to the idea of rolling around and that kind of stuff.
Are there any Easter eggs that you can tell us about?
My friends went to Superfrico a few months ago while I was working on the new Discoshow panels, and the hostess mentioned that she likes to look at the piece a lot, so I put her name somewhere. There are also references to The Gazillionaire, like his smile with a golden tooth, throughout the piece.