What do 19th century Belgium, Melbourne's Luna Park, a demolished pier on NYC's East River, the Las Vegas Strip, and the Atlantic City Boardwalk all have in common? Much like Spiegelworld's future, the answer lies in our past. Read on for the lowdown on how our previous productions and other milestones continue to inspire and inform our path ahead.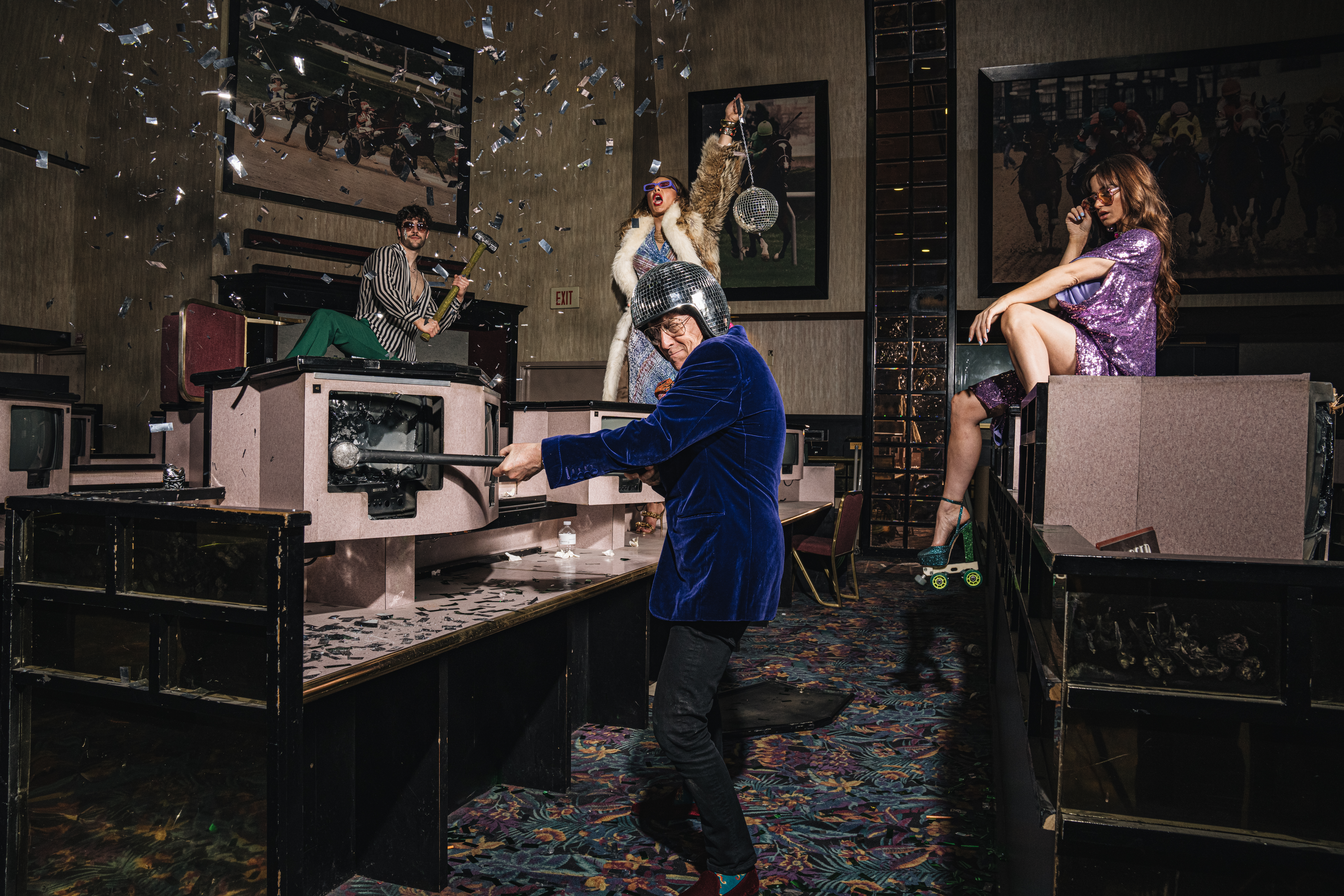 Major Moments
---
2006
Absinthe® debuts with a three-month engagement at South Street Seaport's Pier 17. Hosted by The Gazillionaire, the inaugural cast includes David "Bath Boy" O'Mer and The English Gents. An additional live music program features the likes of Diamanda Galas and Sean Lennon.
---
2007
Absinthe returns to Pier 17 for a second season and La Vie makes its debut, co-produced with Montreal's The 7 Fingers. A live concert/DJ program features DeVotchKa, Lila Downs, Jose Gonzalez and Badly Drawn Boy.
Spiegelworld® goes to Miami for a nine-week run of Absinthe and Gazillionaire's Late Nite Lounge in South Beach's Collins Park.
---
2008
Absinthe and Gazillionaire's Late Nite Lounge return to Pier 17, now with two spiegeltents, a restaurant, headphone disco, VIP cocktail bars and a Boucheron store. A new show, Désir, premieres alongside a live music program featuring Amanda Palmer, Ute Lemper and Martha Wainwright.
---
2009
Spiegelworld travels down under to create a live entertainment village for the Australian Open Grand Slam Tennis Tournament. While Absinthe is a hit with tennis fans, Gaz rubs some in the Melbourne media the wrong way—and neo-burlesque icon Julie Atlas Muz's world-famous balloon striptease is banned.
After months of planning to open Absinthe at the brand new Fontainebleau casino in Las Vegas, the global financial crisis forces the half-built resort into bankruptcy, leaving the show without a home.
---
2010
Lady Gaga wears a meat dress to the MTV Video Music Awards. We travel, read books and watch a lot of TV.
---
2011
Absinthe opens—finally!—in a spiegeltent outside Caesars Palace. An instant smash, Las Vegas Sun calls it "the most inventive and daring show to open on the Strip in years."
---
2012
Some said it wouldn't last six weeks but Absinthe proves its critics wrong, celebrating one year—and 500 shows— with the first of many legendary April 1st anniversary parties.
Spiegelworld returns to NYC, pitching a spiegeltent in Times Square for Empire. Inspired by the area's rich vaudeville history and eccentric characters, the show earns rave reviews—and a brief picket by IATSE Local 1 and their inflatable mascot, demanding the hire of local union technicians.
Empire embarks on a sold-out 16-month capital city tour of Australia, returning to many cities twice due to popular demand. In Melbourne, the spiegeltent has to be lifted to its spectacular site atop the Crown Casino by crane.
---
2013
Absinthe's 1,000th performance at Caesars Palace is nearly derailed by an outbreak of Zombie Fever.
---
2014
Vegas Nocturne debuts at The Cosmopolitan of Las Vegas, marking the company's first foray beyond spiegeltent-centric entertainment. An ambitious three-part show weaving through the custom-built restaurant, cocktail bars and showroom of Rose. Rabbit. Lie., it opens to rave reviews … and closes six months later.
Empire opens at one of Tokyo's premier nightclubs, Club eX at the Shinagawa Prince Hotel.
GAZ TV premieres. Directed, produced by and starring The Gazillionaire, the 11-episode web series also features Penny Pibbets, Neil Patrick Harris, Amazing Jonathan, Robin Leach and Tony Hsieh.
---
2015
Absinthe Tour Le Monde begins an 8-city, 9-month spiegeltent tour across Australia. In Sydney, church officials derail plans to host the show outside St. Mary's Cathedral. In a bona fide Hail Mary move, a new location is found across the street at Hyde Park.
Empire embarks on a 21-week tour of Canada. In a company first (and hopefully last), the production crew faces off against snow, ice and brutally cold winter weather while erecting the spiegeltent in Downtown Montreal.
Vegas Nocturne plays a series of experimental performances including a four-week run at Edinburgh Festival Fringe, where it is voted "Strangest Show," as well as dates at NYC's Slipper Room, Union Hall and Hollywood's The Three Clubs.
---
2016
Spiegelworld presents Never Sleep Alone at New York City's iconic Joe's Pub at The Public Theater.
Vegas Nocturne returns to NYC for a limited run at the House of Yes in Bushwick, Brooklyn.
Las Vegas Weekly ranks Absinthe (#1) and Vegas Nocturne (#19) among The 20 Greatest Show in Las Vegas History.
---
2017
Absinthe embarks on a 9-week run in a custom tent atop LA Live's Downtown Los Angeles Event Deck. On opening night, the lavish NoMad food truck serves Humm Dogs and Absolut Elyx keeps the drinks flowing.
Spiegelworld presents a public workshop of Heroes at Brooklyn's St. Ann's Warehouse. Developed in collaboration with acclaimed British director and choreographer Steven Hoggett (Harry Potter and the Cursed Child, Curious Incident) and the award-winning Irish playwright Enda Walsh (Once, Arlington), Heroes explores the secret lives of bellboys, chambermaids, concierges and guests, each one a hero, as their stories intersect across physical space and time in a luxury hotel.
In partnership with chef Sonar Saikia, Ghost & Grits makes its debut at Smorgasburg in Williamsburg. The menu features a mouth-watering pulled pork sandwich infused with Sonar's secret Assam spices and ghost pepper mayonnaise.
---
2018
Spiegelworld brings Ghost & Grits to Austin, Texas for the prestigious SXSW Festival.
In honor of Absinthe's seventh anniversary on the Strip, Clark County Commissioner Lawrence Weekly officially re-names Las Vegas Boulevard "Gazillionaire Boulevard."
Spiegelworld mounts a public workshop of a new show charting the birth of disco, with the legendary Nile Rodgers of Chic and Olivier Award-winner Steven Hoggett on the creative team. We Are Here/DiscoShow plays seven sold-out shows at the "Glitterloft," otherwise known as La Mama Experimental Theatre Club.
---
2019
In celebration of Absinthe's 8th anniversary, The Gazillionaire powers up the Absinthe Electric Oak for the first time, later taking a turn behind the decks as the Green Fairy Garden's first ever Tree-J.
Spiegelworld decamps to Scotland for the summer to create a new show inspired by the wild west. Directed by Cal McCrystal, Atomic Saloon Show™ debuts with a sold-out world premiere season in the Assembly Gardens' Palais du Variete spiegeltent, as part of Edinburgh Festival Fringe.
The Falzone-Buzukhov Family Circus rises from the dust to pitch its big top in Black Rock City, gifting gourmet dinner and a show to 100+ Burners nightly.
Atomic Saloon Show opens to rave reviews at the Atomic Saloon inside Grand Canal Shoppes at The Venetian Resort.
Spiegelworld hosts a (literally) magic-filled holiday party to christen its recently-purchased future headquarters, the former Milan Bakery on Fremont Street in Downtown Las Vegas.
---
2020
Absinthe is inducted into Las Vegas Magazine's Hall of Fame, joining local luminaries Wayne Newton, David Copperfield, Wolfgang Puck and the Vegas Golden Knights among the 11 inaugural honorees.
On March 6, three weeks shy of its 9th anniversary, Absinthe celebrates 5,000 performances in the spiegeltent at Caesars Palace.
On March 15, Spiegelworld suspends production of Absinthe, OPIUM and Atomic Saloon Show due to the escalating COVID-19 pandemic. Within a week, every casino in Las Vegas goes dark.
Spiegelworld releases the first episode of VEGASHITSHOW, a weekly video series exploring the impact of COVID-19 on the company, our staff, artists and city, as we fight to get back to business.
Absinthe re-opens October 28 with stringent health and safety protocols in place, the first Strip production to do so. The show sells out nightly, but closes (again) December 6, when the Governor further reduces capacity to 50 or fewer. Inexplicably, casino gaming, restaurants, bars and nightclubs are permitted to keep operating at 25% capacity.
---
2021
Spiegelworld's first-ever fully-integrated dining and cocktail concept, Superfrico,debuts at The Cosmopolitan of Las Vegas. Offering unfussy Italian American Psychedelic fare, mind-blowing cocktails, art and unpredictable amusements in an intimate house party atmosphere, Superfrico takes a sledgehammer to the barrier between fine dining and the over the top, only-in-Vegas experiences visitors crave. For more information, visit the Superfrico website. (Better still, come for a drink or a bite, or go off-menu and stay all night.)